Skip to Content
Functional Walk-In Bathtubs in Ohio
When it comes to bathing, we know how important it is for you to feel secure. Level Up Baths has been providing and installing a variety of walk-in bathtubs for years. In Dayton, Columbus, and Cincinnati, OH, you have access to affordable, functional, and safe bathtub installations today. By acquiring a walk-in bathtub for your home, you will not only increase the safety of your bathing experience, but you will also be enhancing the aesthetic of your bathroom as a whole. The products we use for the jobs we perform are always durable, low-maintenance, and beautiful. No matter what your bathtub dreams are, our experts will make them a reality.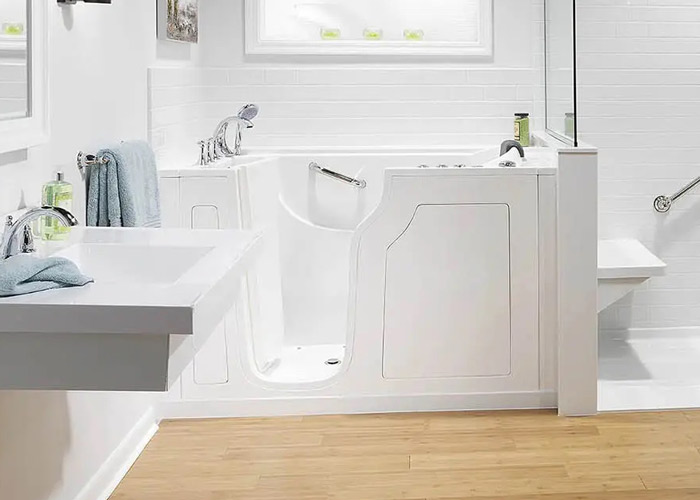 Secure Walk-In Bathtubs Made for You
The walk-in bathtubs that we install are designed to be safe and secure for all bathers. Each bathtub is made with high-functioning, durable acrylic that is low-maintenance for your convenience. These walk-in bathtubs allow bathers to access the tub without worry of falling or slipping. Once you have made it inside, you will experience spa-like relaxation. Additionally, each tub is made to fit your space, no matter how big or small your bathroom may be. This eliminates the need for extensive renovation of the bathroom. Our technicians will simply renovate your former tub or shower and install the perfect walk-in for you. We provide fast installations so that you can enjoy your new tub within one to two days.
Accessible Bathing Experiences
With the variety of walk-in bathtubs that we offer in Dayton and Columbus, OH, you will be able to customize your bathing experience. The various colors and designs that we carry allow you to choose a tub that will match your personal style and that will meet your needs. We know how important it is to feel safe and secure during your bathing experience, which is why we offer accessible walk-in bathtubs at affordable prices. Our team believes that everyone deserves to feel comfortable in their bathing environment. That is why we use only the best materials for every job. When you trust our expert installers to renovate your bathroom, you will be putting your needs first. If you are ready to enhance your bathing experience, reach out to our team today.
Contact Us Today to Transform Your Bath or Shower